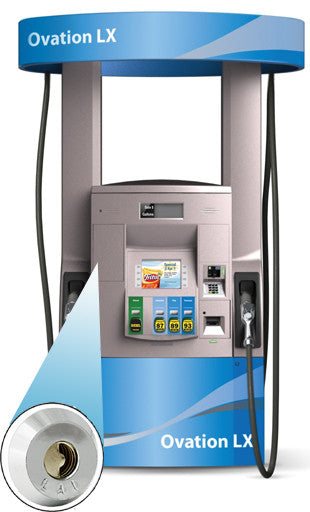 High Security Bezel Door Lock Kit for Wayne Ovation
This Kit Has Everything Needed for Both Top Doors on a Wayne Ovation Dispenser. Kit Does NOT Include Locks for Fuel Doors.
High Security Dispenser Door Lock Kit for Wayne Ovations.
Kit Includes: (2) Locks (2) Latches (2) Template Plates 
ONLY YOU will own this key. Replacement & Extra Keys are available for this order or future purchases. We will confirm with you before we ship if you want this order keyed the same or separate keying for each lock. To maximize security these locks are custom made. Please allow 6-10 days for these items to be shipped. Actual delivery time will vary from location to location.
Purchasing keys is separate! Please be sure to add necessary keys to your cart. Replacement keys are available for future purchase. 
Note: This kit is designed to add a lock to your Wayne Ovation dispenser doors. The kit requires drilling a hole into your dispenser door. Installation instructions are provided. If you are unsure which lock you need, please email us at sales@petrodefense.com or call: 888-653-6135. We will be glad to help you in selecting the proper lock. This kit is the equivalent of Wayne Part Number: WU000940-xxxx.